Serendipitous Journeys in Sri Lanka
Any story about the Pearl of the Indian Ocean is bound to mention its etymology: the island was called Taprobane by the Greeks, Serendib by the Arabs, Ceilão by the Portuguese, later modified to Ceylon by the English, and currently Sri Lanka, which means "resplendent island" in Sanskrit. As we discovered on a long and winding journey through some of its plains, beaches and mountains, there is much truth in Sri Lanka's official name.
Endowed with a remarkable history spanning millennia, Sri Lanka has finally begun to heal from a devastating civil war which has lasted 30 years and ended only in 2009. Its doors are starting to open to tourism, and the influx of visitors is expected to increase exponentially. Curious to finally put a landscape to a mysteriously exotic childhood geography (mostly to do with the monikers Taprobane and Ceylon), we landed in Colombo on a suffocating November morning, expecting to find a country still reeling from the wounds of war.
What we found instead was a country just opening up to the world, still hopeful and curious.
Sri Lanka's Northern Province was still mostly unavailable to tourists, so we planned our trip accordingly. The furthest we could comfortably go in the North would be Anuradhapura, one of Sri Lanka's ancient capitals. With only a couple of weeks to spare, we decided to first do a cultural tour and then head southwards to find a quiet beach where we could rest our feet and drink as much ginger beer as humanly possible.
Still dazed by Colombo's scorching heat, we immediately hopped on a bus towards Habarana, in the North Central Province, thus honoring our tradition of running from a plane to a long distance bus in less than 30 minutes. The trip took approximately 5 hours on an extravagantly decorated bus. Under the neon gaze of several Hindu deities, we made small talk with some fellow passengers, who kindly agreed to let us know whenever we reached Habarana.
We were left by the side of an unkempt road already blanketed by dusk. After stumbling into a few scattered locals who pointed us in the right direction of our hotel, we arrived at a grand entrance surrounded by greenery. Climbing the steps, we were promptly offered warm white towels and a fresh papaya juice by the smiling staff, who did not fail to notice our exhaustion. We were a mess, but already glad to have chosen the Chaaya Village Habarana as our first choice of accommodation in Sri Lanka.
Following such a tiresome journey through air and road, we wanted to be pampered. Bookings were soon confirmed, smeared towels returned and our tired bodies eventually made it to a spacious room with a very inviting bed.
Our eyes and legs wanted to immediately embrace the white world of sheets and pillows, but our stomachs growled louder. Hence, we left for the restaurant, where we tasted one of the best buffets known to humankind. OK, we might have been starving, but we did have a scrumptious meal. To this day, we still reminisce fondly on the many delicacies available therein. Whenever we find ourselves going through the best meals we've had on our travels, there's always a reference to the Chaaya Village Habarana buffet.
Stomachs finally satiated, we ambled heavy to our luxurious chambers. Nonetheless, we still had a moment outside to unwind from the day's restless travels.
The Chaaya Village Habarana is gorgeously located in the middle of bushland, but since it was nighttime we could only fathom indistinct shapes and wildlife sounds. As we prepared to enter our room, we felt an animal rush past us. Squinting our eyes, we could discern a long tail appearing and then disappearing between the trees. Taking it as a sign our brains were fast approaching total meltdown, we closed the door with a certain degree of paranoia and finally fell into slumber.
The following day we woke up in Sri Lanka. I've always wanted to say that.
Walking outside to greet our first morning in Sri Lanka, we realized the hotel had vast and luxurious grounds, complete with a lake and a pool – and monkeys! The mystifying tails we had seen in an hallucinatory daze the previous night belonged to monkeys! Any well-rested person would have figured it out immediately, but we were jet-lagged and prone to fanciful flights of imagination. Monkeys 1 – Dimwits 0.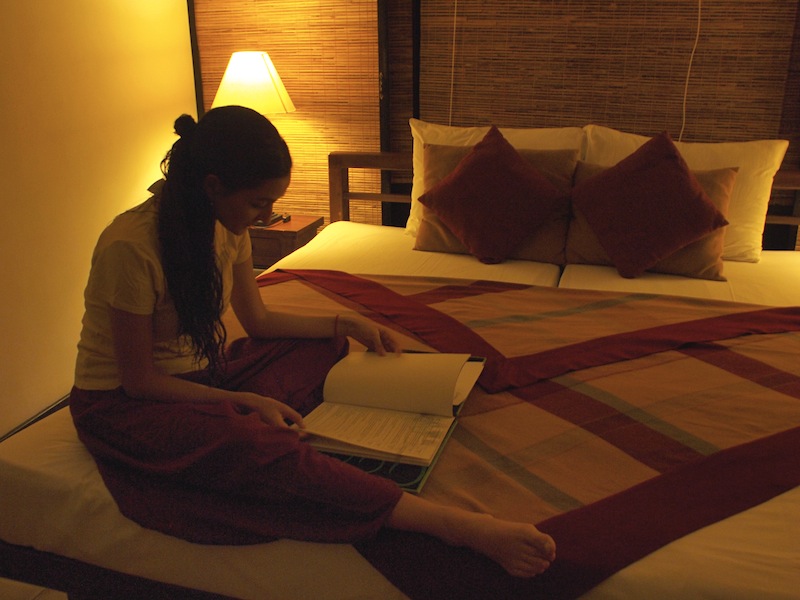 ***
Introduction to Sri Lanka's Cultural Triangle
After gorging on more food than any sane person would dare try, we began our tour of what is known as the Cultural Triangle. We booked a taxi and left for Anuradhapura, old capital of Sri Lanka, UNESCO World Heritage Site, home to the sacred Bodhi Tree Temple and den of malaria. We only found out about that last one afterwards, and are happy to say our ignorance did not turn our little adventure into a feverish nightmare.
When visiting the Temple complex of Anuradhapura, shoes must come off and feet must endure the scalding ground. In a word: ouch. We walked mostly on tiptoes, but thoroughly enjoyed it. The Ruwanwelisaya, oldest stupa of Anuradhapura, was teeming with Buddhist worshipers, who were mostly dressed in white and carried colorful flags on their shoulders.
As mentioned earlier, the island of Sri Lanka was known in Arabic as Serendib. From this root stemmed serendipity, arguably one of the most beautiful words of the English language. It would be befitting then that our journey through Sri Lanka would become punctuated by several serendipitous moments and encounters…
From Anuradhapura we drove to Polonnaruwa. Halfway through, we stopped to enjoy fresh coconuts by the side of the road. As we drank, we heard the sound of elephants close by. The coconut vendor noticed our quizzical expression and pointed to a tree-lined spot in front of us. He urged us to go, so we set out to see what all the fuss was about. As we approached a clearing, we heard water gurgling and feet splashing. We had arrived just in time to see several elephants bathing, rinsing dust from nearby fields.
Polonnaruwa was the second cultural UNESCO World Heritage Site we visited in the teardrop island. There would be 6 more to go, proof of Sri Lanka's invaluable historical bounty. The sprawling venerable city is also the second capital of Sri Lanka, following the fall of Anuradhapura in 993.
Polonnaruwa is now mostly ruins, albeit magnificent ones, and spiritually close to places like Angkor Wat or Chichen Itza. Due to its vastness, we interspersed walking with driving around, careful not to get in the way of the many cows grazing about.
We also stopped to admire the Gal Vihara, a rock temple built in the 12th century comprised of four Buddha statues in various positions. The largest statue is of a reclining Buddha, at peace after attaining the ultimate nirvana: parinirvana.
In the end, we were left amazed at the megalomaniac ardor of Parakramabahu I, 12th century ruler and creator of a magical garden-city whose splendor can still be grasped under the effacing weight of centuries.
We returned to Chaaya Village with buzzing brains and haggard limbs. We would continue our cultural trek the following day, driving southwards to Kandy, home to the venerated Temple of the Tooth Relic and, yes, a UNESCO World Heritage Site. But first, we would take a couple of interesting stops.
***
Sigiriya: Rock Fortress in Sri Lanka
On our way to Kandy we first stopped at Sigiriya, another ancient capital and (drum-roll, please) a UNESCO World Heritage Site. Vertiginously built at the summit of a 370 meter high granite peak nicknamed Lion's Rock, it stands as one of humanity's most fantastical constructions. The sheer grandeur of Sigiriya's rock fortress is beyond the grasp of a photograph, or even a naked eye's initial glance. In the distance, it just looked like a big orange cliff. Impressive, but we had already seen the dragon karsts of Ha Long Bay.
We walked the extraordinary gardens of the complex towards the rock fortress, surrounded by large reservoirs, and eventually began our ascent, slowly becoming aware of Sigiriya's true majesty. The luxurious landscape below stretched as far as the eye could see, and we felt as if being led to the heavens. Almost halfway through our climb, we arrived at the Mirror Wall, a porcelain-like gallery which originally reflected the paintings on the opposite rock wall. Now, it stands flush with ancient graffiti – scribbled verses and personal thoughts dating back to the site's earliest visitors in the 6th century.
On our way to the summit we crossed paths with the renowned Maidens of the Clouds, a collection of frescoes depicting stunning female figures, exquisitely drawn on the rock's surface. They are supposed to have covered most of the western face of Sigiriya, but were apparently wiped out by restless monks when the fortress became a monastery following the death of King Kassapa I (477–95).
Reaching the mid-level terrace we encountered the Lion Gate, nowadays lacking its full-bodied authority but whose massive paws still succeed in emanating menace.
We proceeded to the final climbing stretch, and once firmly on top of the magic mountain could truly appreciate the work of art that is Sigirya. The fortified palace, surrounded by clouds, cisterns and sculptures is testimony to both the folly and creativity of the human mind. We meandered through its ruins in a daze, imagining how its native inhabitants were able to live in the company of swallows.
Personally, standing at the top of Sigiriya I half-expected to see the sentient robot from Hayao Miyazaki's Castle in the Sky walking beside me. To others, it may remind them instead of ridiculous clothing and synthesizers.
***
Dambulla Caves in Sri Lanka
Our journey continued under shifting clouds, threatening thunder. Seeking refuge, we made our way to the Golden Temple of Dambulla, a cave monastery and (ready for it?) also a UNESCO World Heritage Site. The entrance is guarded by a colossal golden Buddha, looking peacefully into the oncoming storm. Climbing the stone stairs, we proceeded through a rising stone and gravel path, until we finally arrived at the shrines excavated into the sheltering rock.
The 5 caves which constitute the temple date back to the 1st century BC. Inside, 157 statues of various sizes silently bear witness to successive generations of visitors and worshipers. The murals within are brimming with colorful paintings depicting Buddha and several gods and goddesses. Although some of the statues are massive, they are always infused with a delicate serenity.
As we left the cave complex, we noticed several people had surrounded a sacred bo-tree in prayer. The humidity was beginning to seep into our aching bones, but we still had energy to stand and contemplate a refreshingly unfamiliar ritual.
***
Kandy's Temple of the Tooth
Somewhat more disheveled than the monkeys lining our path, we drove to our final destination of the day, Kandy, the last capital of the Sinhala kings. Honoring yet another tradition, our accommodation in Sri Lanka alternated between the luxurious, the modest and the surprising (for better or worse). In Kandy, we stayed at a modest hotel overlooking the city. The weather had stopped threatening rain and was now fully committed to drench us into oblivion.
Talking to the hotel's staff and other guests, we came to the conclusion Kandy stands at a vortex of merciless grey climate, only opening up its blue skies to the pure of heart or stupendously lucky. We were neither, so had to make do with makeshift umbrellas and speedy legs. We found some solace inside the Sri Dalada Maligawa, or Temple of the Tooth, a Buddhist place of worship purportedly housing the relic of the tooth of the Buddha and one of Kandy's most renowned points of interest.
The symbolic power of the sacred relic is of adamant importance in Sinhalese history. It is said those who possess the relic will also rule the country, which explains why it has traveled so often during the past few centuries. At first sign of trouble, the relic would be the first item to hide – and Sri Lanka has had a lot of trouble.
We visited the Temple of the Tooth in the evening. It was swarming with foreign tourists and devout worshipers, a strange mix which nevertheless managed to harmoniously combine into a mumbling mass of awestruck faces. Once outside, we walked back to our hotel upon the hills, this time moderately dry, Kandy's inclement weather showing perhaps some appreciation for our perseverance.
***
Pinnawala Elephant Orphanage in Sri Lanka
The following day, and taking advantage of its proximity to Kandy, we decided to pay a visit to the Pinnawala Elephant Orphanage. There, we saw the Asian elephants bathing and stood in close proximity during feeding time. They are beautiful, majestic creatures. In spite of their formidable bodies, they exude an uncanny grace.
A few of our fellow tourists were perhaps expecting more of a circus experience, and tried to make up for it by callously approaching the elephants and using them as exotic props to their holiday photos. We preferred to quietly admire their patient eyes instead, only photographing their resilient expressions as feeding time ended.
We were by now mostly done with the cultural side of our trip. Our eyes longed for blue skies and our limbs for the gentle sway of the sea. However, before jumping into the Indian ocean we would still have to find our way through the luscious landscape of Hill Country.
From Peradeniya Station we took the train to Badulla. We wouldn't be going all the way to Badulla though – Ella would be our last stop.
***
Train ride from Kandy to Ella
We bought 2nd class tickets, wanting to mingle with the locals and willing to save a few rupees in the process. The train ride from Kandy to Ella was a breathtaking experience and is forever embedded in our minds as one of the most stunning journeys we have ever undertaken.
We started the 6 hour ride standing, as our carriage was full. The locals were all remarkably friendly, and when not chatting with one or another we gawked mesmerized as the passing landscape fluctuated between sumptuous and spellbinding.
Approximately 2 hours into the voyage, the train stopped at Hatton. Close by is one of Sri Lanka's main attractions, Adam's Peak, suffused with legends and visited by Marco Polo in the 13th century. Unfortunately we skipped Adam's Peak, having had our share of shrines at the time, but made a note to check it out in a future trip.
Back on our magical mystery tour, a couple of Sinhalese gentlemen with whom we had started a conversation left the train and gave us their window seats, under the jealous gaze of a few scattered tourists. Friendliness 1 – Hesitation 0.
The remaining 4 hours went as if in a dream. Mountains rose, valleys opened, waterfalls suddenly appeared, tiny colorful houses burst into the green scenery, weather changed from sunny to misty to clear to rainy to sunny again, young boys and girls hollered every time the train entered a tunnel and gorgeous children waved smiling as we rode past tea plantations, nebulous forests and possibly different dimensions.
Most of the Western tourists disembarked at Nuwara Eliya, probably using it as a gateway to Horton Plains National Park, where the portentously named World's End precipice is situated. We continued to Ella, where we eventually arrived almost sedated by all the glorious beauty we had seen.
However, once outside the mystical realm of the train our bodies woke up to various complaints and urgent needs.
Fortunately, we had booked accommodation in advance and had a tuk-tuk waiting for us the moment we stepped outside Ella's train station. Off we went to Waterfalls Homestay, which unbeknown to us would become one of our favorite guesthouses in the world.
***
Waterfalls and Warmth in Ella
Following a bumpy but fun ride, we were greeted by the cheerful yapping of Matilda and Skippy, the owner's lovable dogs. Close by and still suspicious was Squat, a mongrel who had apparently made friendship with the other homely pets. We met Karen, who with her husband owns Waterfalls Homestay and who promptly led us to our verandah room.
The setting was splendid. Atop the breakfast terrace we could see a charming waterfall flowing in the distance. All around us lush jungle stretched into the valley below. There was only one other guest, who mentioned the weather had been unkind the past few days. We were left slightly dispirited, but soon forgot about it, busy as we were admiring the views and playing with the pets, which now included sweet Tinkerbell the cat.
As evening approached, we went for a stroll to Ella, a small village which to us looked more like a road lined with houses than anything else. The place is quaint and had few tourists walking around. We meandered up and down the main road, until settling into a tiny bar serving huge portions of delicious food. Having had our dose of rice and vegetables for the next 5 days, we calmly returned to our guest house.
As we prepared to enter our room, Karen advised one could see the night train to Colombo traveling across the mountains in a few minutes. The night was clear and dry, so we stood in the terrace drinking tea and keeping a steady lookout. In the corner of our eyes, we began sensing a faint light flicker. That light multiplied and became brighter, until we finally realized we were surrounded by fireflies.
Just as we were about to blurt out "doyouseethefirefliesohtheyresoprettylook!" to each other, we saw the waterfall illuminated, followed by the chugging sound of the train climbing the mountain. Its headlights shone upon the rock and across the moonlight, turning sideways until it seemed to hover above the waterfall, eventually disappearing into the forest, a lone whistle the only evidence it was ever there. We were trapped in a Miyazaki film and wanted to never leave. Later, we fell asleep dreaming of Totoro and the Catbus lighting dark childhood nights…
The following morning we woke up to a bright blue day. Breakfast was being prepared by Kamal, spirited surfer and cook extraordinaire. We sat down in the verandah, our eyes still glinting from the previous night's visions. As soon as any food was put on the table it would disappear without a trace in a few minutes. Our favorite dish can be noted as a mathematical sum: papaya+pineapple+buffalo curd+palm honey = best breakfast ever!
Our stomach and senses satiated, we left to explore the spectacular countryside, teeming with tea plantations, gargantuan gorges, vast mountains and picturesque valleys.
We walked along the railway tracks towards Little Adam's Peak, our new companion Squat wagging its tail alongside us, sometimes disappearing to explore some silent noise only to reappear at a later corner, nonchalant as ever.
We spent all day lost in the sun, happy and free, waving at curious school kids and old people going about their lives. Our bodies were sucking every inch of sunlight, now relaxed and fully accommodated to the colors and smells of Sri Lanka. In the afternoon we took a dip at Rawana Ella Falls and bought a few packs of Ceylon tea in a factory nearby.
Our last evening was spent chatting with Karen and Kamal, enjoying a sumptuous dinner and making plans for transportation to Yala, our next destination.
We departed Waterfalls Homestay with heavy hearts. Skippy the dog saw us to the main road, and we nodded in appreciation as we continued our descent to the village. Once there, we positioned ourselves by the road's edge, waiting for a bus to come. Some friendly locals would stop and chat, and gave us instructions as to which bus to take. One of them was a Mr. Silva, whose surname was our first true reminder of Portuguese influence in Sri Lanka.
When we left Ella on our mad, ramshackle bus, I looked back to the now diminishing village. Ella had been our introduction to another Sri Lanka, a realm still suffused with magic but somehow intimately real, reminiscent of folk tales and spirits but also of all the endless summers of childhood memory. We would miss it and its people (and pets).
***
Yala National Park: Boars and Bungalows
Having miraculously made it alive to Tissamaharama, coloquially known as Tissa, we looked around for a tuk-tuk that would take us to Yala Safari Game Lodge, where we would be spending the night and from whose grounds we would set out for our very first safari. Even though we knew the rule of never to engage a tuk-tuk driver if not sure of where you're going or not sure he knows where you're going, we were in a gambling mood and climbed a tuk-tuk to the middle of nowhere.
Well, sometimes our adventurous spirit gets the best of us, and we soon realized this had not been one of our most intelligent ideas. Half an hour later we were lost and our tuk-tuk driver was losing his patience, since the road was getting bumpier and he had no idea where he was going. Eventually he just stopped the tuk-tuk and refused to go any further. Oy vey…
As we began to reassess our situation, nervously facing the prospect of a walk through the Sri Lankan wild side, a jeep suddenly appeared and stopped beside us. The driver, a Sinhalese youth, asked if everything was alright. We explained the situation. Where are you headed?, he asked. Yala Safari Game Lodge, we replied. Hop on!, he said. Yay!, we mentally shouted.
The lodge is very close to the park's entrance. Its grounds are ample and blend almost seamlessly into the surrounding scenery. Upon arrival, we began the bureaucratic process of checking-in and whatnot. We were in the middle of a sentence when an incredibly intense boom cracked from above, leaving everyone instantly cowering for cover. We had never heard anything so loud – it was truly ear-shattering. Was the sky falling? Could it be those pesky Gauls were right after all?
After regaining some composure, the staff provided a few safety instructions. Albeit momentarily deaf, we understood something along the lines of "be careful with the odd untamed species coming your way, be they boars or elephants". Oh, and all evening walks back to our jungle chalet would have to be done accompanied by a guide equipped with a flashlight and a rifle. Rifle?, we thought. Ooookaaay…
Our jungle chalet was lovely. Air conditioning was working at full blast, but we still decided to go for a swim in the blue pool to get rid of some dust. At a glance, the huge storm responsible for the piercing peal of thunder was going to bypass our lavish hideout. We were definitely relieved. Returning refreshed to our not-so-humble abode, we came across a boar family going about its business. We exchanged watchful looks, and walked the rest of the way at a brisker pace, trying to be as casual as we could.
As was now becoming usual, we woke up to a resplendent day. Feeling a bit wired about going on our first safari, we made way into Yala National Park in the early hours of dawn. The park covers almost 1000 km2 and is bursting with wildlife. The leopard is apparently the prize to get, but we failed to see one in spite of our driver's nearly despairing efforts. We assuaged him of any responsibility, and stressed we were more than happy with "lesser" sights like elephants, monitor lizards, crocodiles or even monkeys.
It would be a couple of years before we explored the warm heart of Tanzania and took an exhilarating tour of the Serengeti, but we were quite satisfied with our first safari experience. We rambled through various ecosystems, resting occasionally to gaze at wildlife. We also took a detour to Yala beach, in full view of Patanangala rock and where a monument to victims of the devastating 2004 Indian Ocean tsunami stood grave and ominous. Once again, we were reminded of the indifferent power of the natural world.
Now firmly in the Southern Province of Sri Lanka, we sat in the wooden chairs of our chalet and did some brainstorming concerning our last week of holidays. We went through several possible locations, landmarks and hotels, and ultimately chose to spend a week in Mirissa, a tiny enclave by the beach which seemed well suited to our peaceful tastes.
Off we went once more on a reckless bus, swerving left and right as if the end of the world was coming just behind us. This time, at least, we were following the ocean and not dizzying cliffs. The sun was now willing to keep smiling for most of the day, which did not fail to lighten our spirits. In the bus, we struck conversation with a local who spoke Italian, and who was kind enough to let us know when it was our turn to leave.
***
Mirissa: Waves in Sri Lanka
In Mirissa, a small town graced by one of the best beaches in Sri Lanka, we stayed at Ocean Moon Guesthouse and Cabanas. The reason behind our choice? We just liked the name. After the extravagance of our safari, we went for a cheap option. The unassuming entrance was located by the busy main road. We made our way in and found a staff member hurrying around with a plate of pancakes. We wanted to grab them and make a run for it. Instead, we waited for his return so we could discuss our lodging arrangements.
To our surprise, he had no idea we would be visiting. We had apparently booked our room through an intermediary, who had neglected to inform them of our impending arrival. To top it off, there were no more rooms available. Uh-oh. The manager was quickly fetched, who apologized for the inconvenience and suggested an alternate accommodation: we could stay in a recently emptied cabana closer to the beach for the same price of our room in the guesthouse. "We'll take it!" we said.
The cabana room was as basic as can be: one bed, a mosquito net, a couple of tables, shower and toilet. It would be here we would spend a blissful week of relaxation and gregarious abandon, drinking ginger beer and eating some of the best food we tasted in Sri Lanka outside of Kamal's kitchen.
Our days were languid affairs, idling by the beach, chatting with the extremely friendly staff and making sporadic excursions to a fruit stand by the main road where a grizzled yet gentle soul would sell us juicy mangoes and papayas. Summer was upon us.


***
Taprobane and Weligama Bay
One of the reasons we stayed in Mirissa and not the more renowned Bentota or Unawatuna, or even Galle (did you say UNESCO World Heritage Site?) was its proximity to Weligama Bay. Not that we had a particular inclination to see Weligama itself – our curiosity veered towards a tiny rocky dot separated from the bay by a short stretch of sea. Its name is Taprobane Island.
We paid a visit to its shores on a warm afternoon. The ocean was full and mellifluous. Walking in the moist sand, admiring Taprobane Island and remembering former owners Count de Maunay and travel writer Paul Bowles, we were accosted by a small fiery dog. He decided to become our guide, accompanying us the whole way until the end of Weligama Bay – minus a few crazy dashes to the waves, chasing crows and bubbles.
We called him Pirate on account of his bitten ear and obvious love of the sea. As we left the bay to spend a few hours in Weligama town, he stopped on his sandy tracks and ran all the way back, surely expecting new guests in need of his guidance.
But there was still one thing we had to do before leaving the comfort of Southern Sri Lanka.
***
Chasing blue whales in Sri Lanka
We had heard the island was a valuable spot to do whale watching and were giddy at the potential of seeing a blue whale. We inquired at our guesthouse and were directed to the services of Rajesh, dashing entrepreneur and proud owner of Raja and the Whales.
The following morning we met Raja and his younger brother, who would take us and 4 other tourists on a trip to see the whales. We left Mirissa harbor in good weather, and hopeful of seeing the largest animal ever to roam our planet in its natural habitat. According to Raja, the trip usually last between 4 and 5 hours, and sometimes whales could be spotted relatively close to shore.
Our adventure began with the sighting of playful dolphins. Later on, a lone sea turtle showed up swimming alongside our boat. There were no whales to be seen, but mammoth container ships began appearing in the horizon. Raja explained that as a fisherman he had seen fishing boat crews selling cigarettes to those long distance sailors. That must have been a sight, I thought.
The hours went by, and at some point I wondered if we were going all the way to Australia. Unexpectedly, as we looked into the expanse of ocean around us, the engine came to a halt. The boat began bobbing silently, the waves lapping against its wooden, unmoored shell with increasing strength. Oh no, not the mad sea of Koh Rong again!, we thought. Raja and his brother reassured us everything was fine while they tried to fix the engine. We believed them and hid our nervousness while scouting for whales.
Once the engine's roar was heard again, we continued our aquatic endeavor. The wind was blowing harder by then, our boat cruising the swelling waves still in search of the elusive leviathans. Out of the blue we suddenly noticed a white splash rising in the near distance. There they were! Raja slowed the boat and approached the school with caution. We learned he is respectful of the whales' presence, which in turn held him higher in our esteem.
All eyes were on deck. The blue whales are magnificent creatures and an emotional sight. How emotional, the dear reader asks? Emotional enough to completely neglect photo opportunities or any other more mundane thought. They were there, breathing and moving in front of us, a sight to be captured in memory only.
These gentle giants are a reminder of both our past and our future, and there are no excuses for letting them die unnecessary deaths. We were left in awe of them, as they engaged in several instances of breaching and tail slapping, in all likelihood oblivious to our presence. After contemplating their glorious bodies for a good while, we headed home, now enduring a more raucous sea.
Having spent most of the day at sea, we arrived in Mirissa harbor elated yet exhausted. We later saw Raja again and chatted a bit more about his life and future plans. We hope he has managed to become the successful businessman he set out to be.
During our last days in Mirissa we did nothing but lie in the sun, swim in the sometimes agitated sea, sleep and enjoy casual conversations with whomever was around. We left it fully replenished and thankful for such outstanding experiences.
We hopped on yet another bus, which took us through Galle and other interesting spots along the coast, until we reached Dehiwala-Mount Lavinia, a large suburb of Colombo and the last stop on our itinerary. We stayed at Mount Lodge, an exquisitely decorated boutique hotel more akin to a homestay. Behind an ordinary door, which took us a while to find, we entered a lovely haven of comfort, made even more alluring by our considerate hosts. Plus, the egg hoppers were to die for. We had a delicious dinner with Kevin and his wife, with whom we shared travel stories and Bob Dylan trivia.
And thus our journey ended.
Sri Lanka was a surprise in all its shapes and colors. We didn't really know where we would end up in, or what we would do. Our knowledge began with obsolete names read in childhood tales and ended with a scarring war, whose traces we could still sense if not particularly see. We discovered a land and a people of many sublime qualities, still holding on to some of its historical mystery while hopeful of a more peaceful future.
Between heaven and water, Sri Lanka has managed to remain a priceless jewel. May its luster never fade…