Dwindling Fortunes Update: September 2013
The cost of living in Mexico
Yes, we've done it again. We arrived in San Cristóbal de las Casas in late August, planning to stay a week or so and then move on either to the Yucatán or straight down to Guatemala. Fast forward one month later, and we're still in San Cristóbal. Not only that, but we've actually extended our stay even further, and are now counting on departing to Guatemala at some point in early November. Apparently, Mexico has become our Bermuda Triangle.
Nonetheless, our "Go Slow" motto has made for some interesting financial data, which we share below: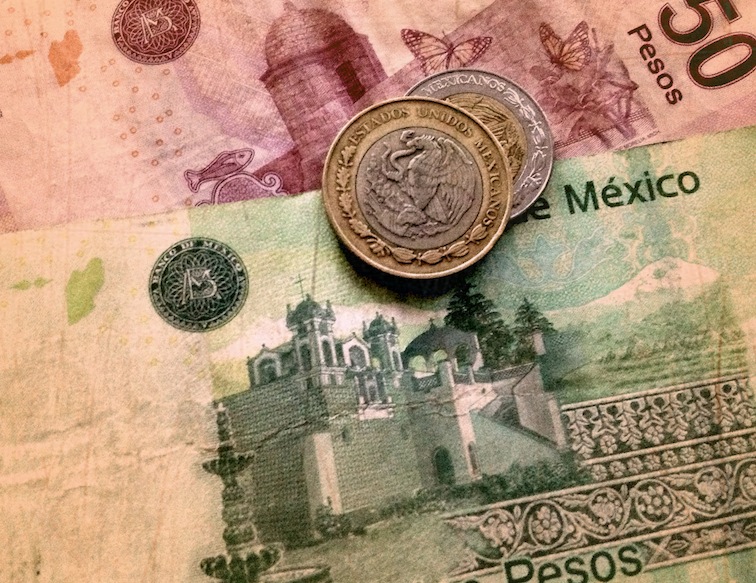 For the purpose of tracking our expenses we purchased a brilliant app called Trail Wallet, available for all gadgets starting with "i". We'd like to note the app has been recently upgraded with even more lovely features and new visuals, so prepare to be amazed.
The procedure is simple: we input our daily budget, fill in our own currency (EUR) and also choose the currency of the country we're in (currently, and apparently forever, MXN). We then enter our purchases in MXN, and the app will let us know how much we are spending in EUR and how we are faring in regards to our daily budget. We can also assign categories to our extravagant expenditures. Here's how it looked on the last day of September: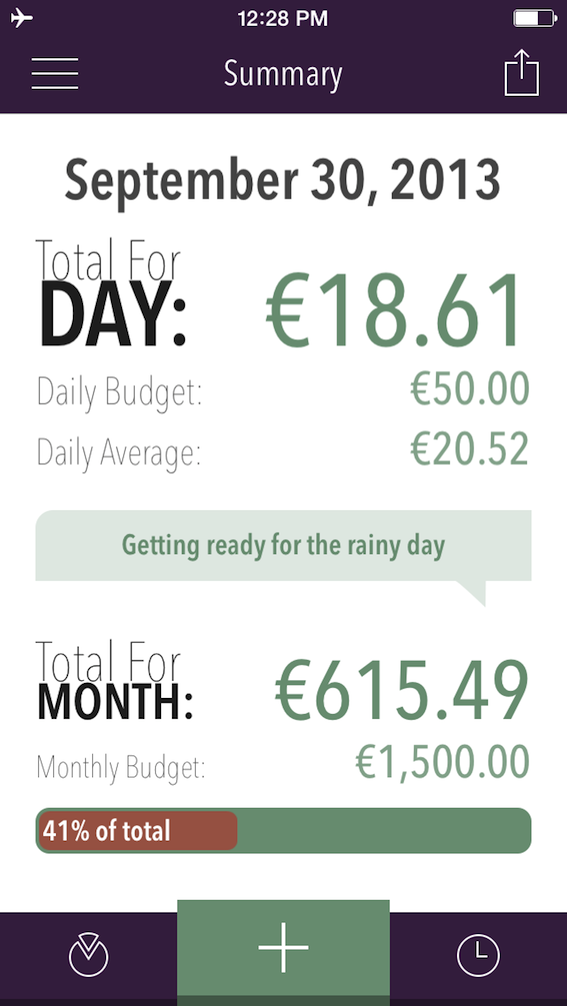 Our daily budget is 50 EUR total. We averaged 20.52 EUR for the month of September, which means we spent 41% of our allocated budget. Compared with August, we saved an average of approx. 10 EUR per day (!), bringing our total costs to a bit over 600 EUR. In order to gain some perspective, that's how much we spent just on accommodation for the month of August. If we keep it up, we might not have to sell our bodies on the street after all – well, at least until Christmas.
On with the financial data then. Unless specified otherwise, all numbers refer to our total costs as a couple.
Below is the general chart for the month of September.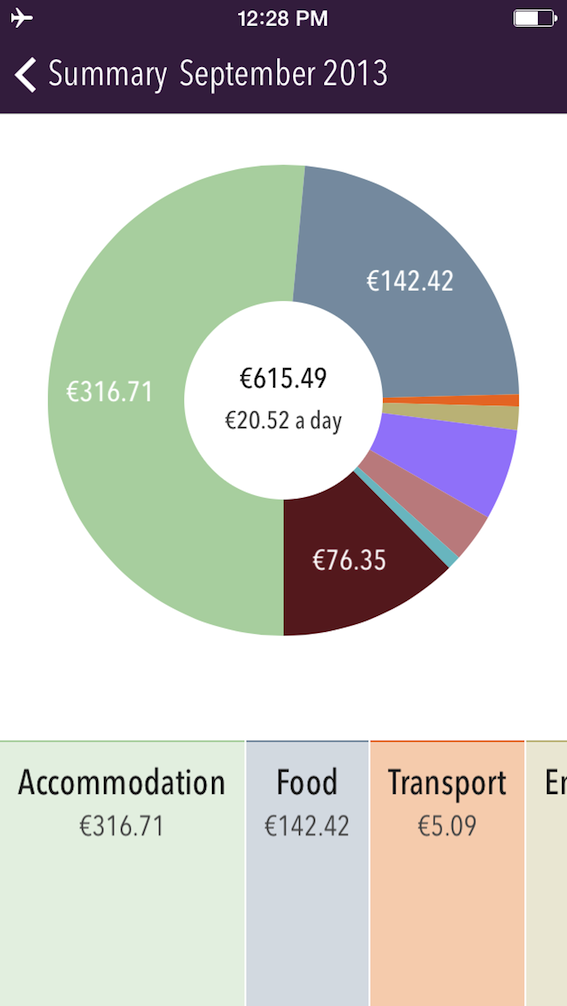 Each lovely color represents a category. We've added the following:
Accommodation
Food
Transport
Entertainment
Lifestyle
Health
Culture
Miscellaneous
Most of the money we spent in September went for Accommodation, Food, and… Culture!
Accommodation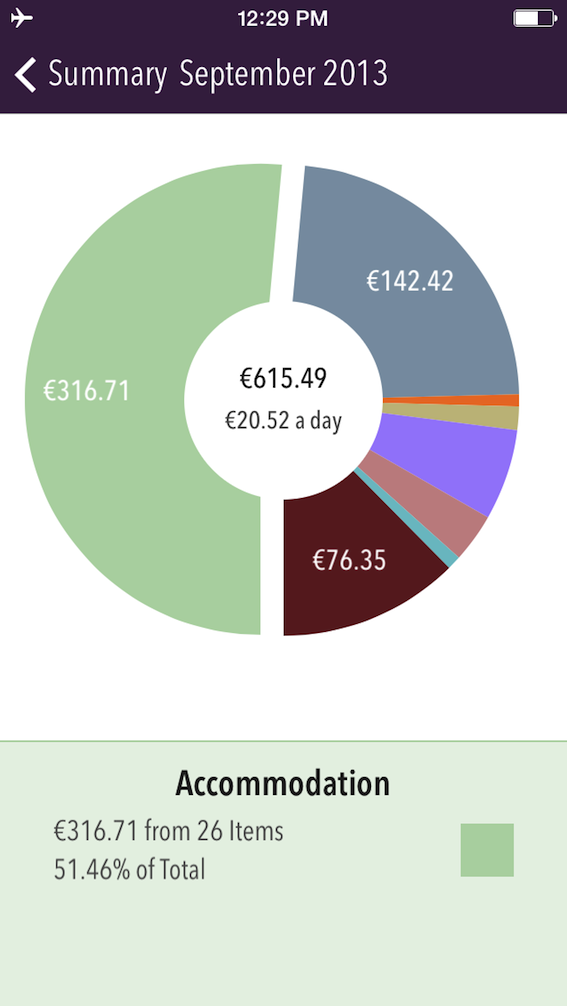 San Cristóbal has been a welcoming respite from our usual splurge on accommodation. Below is the daily rate of the two places we've stayed in. The exchange rate is approximate, since the Euro is as fickle as Walter White's moods.
300 MXN (17 EUR) – Posada del Abuelito (hostel, San Cristóbal)
100 MXN (6 EUR) – Casa de la Vista (room, San Cristóbal)
Average = 200 MXN (11.5 EUR)
We arrived in San Cristóbal on Elle's birthday, following a gorgeous month in Puerto Escondido and cinematic escapades by the Pacific. We booked a week at Posada del Abuelito, a rustic old colonial house now enjoying a new life as a popular hostel. To say we loved it and its people is an understatement: after renewing our booking three times, we had to force ourselves to leave and find a room somewhere else, to let somebody else have all the fun.
We are currently at Casa de la Vista, which rents rooms and bungalows while serving as headquarters for a Language School. Our monthly rent is 3000 MXN/173 EUR, making it the greatest deal we've had so far in our travels. We have the use of a gigantic kitchen, a private toilet in our spacious room and a small patio. Topping it off, the Wi-Fi is pretty good by Mexican standards, allowing me to write these sentences without fear of losing everything as soon as I press "Publish" (yes, it's happened before).
Apartment rentals are quite easy to find in San Cristóbal, and they provide a great option for the many visitors who, like us, decide to extend their stay. A great spot to check new rental offerings is at the entrance of the Super Mas supermarket, in Real de Guadalupe street. They have a weekly cleanup, so you'll know you're not reading a month-old clipping of a place which doesn't exist anymore.
We will be enjoying the coziness and great views of Casa de la Vista for the whole month of October, so we're counting on saving some dwindling pesos on accommodation.
Food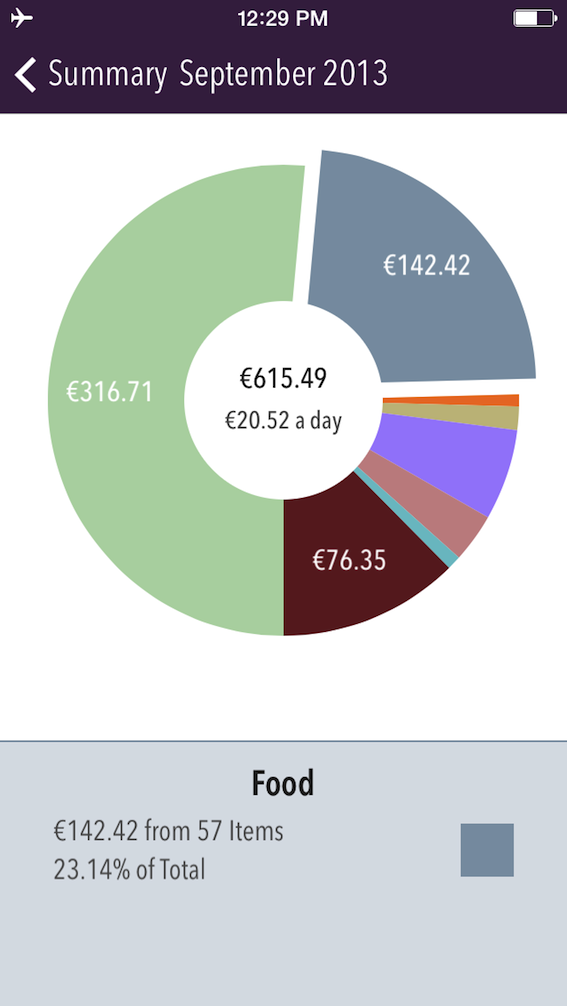 Disclaimer: we're not starving. Although our food costs keep going down, we are eating more and more. If not for the help of our workaholic metabolisms, we'd be as fat as two overfed hogs.
Once again, I cannot speak highly enough of local markets. Mexico is a foodie heaven, brimming with exotic fruits and vegetables which are not only colorful but also succulent. The main local market in San Cristóbal displays a staggering amount of products, ranging from sweet anonas to headless chickens.
One of the most enjoyable aspects of our diet is how it has become attuned to the seasons. After years of supermarket food, where the same produce is displayed throughout the year, we are now eating only what is available in the lands close to San Cristóbal. The mangoes we ate by the bucketful in Puerto Escondido have all but disappeared, and papayas are becoming scarce. Nonetheless, we now have anonas, mandarins, rambutan and the best grapes we've tried in Mexico. Our stomachs are definitely not bored.
Culture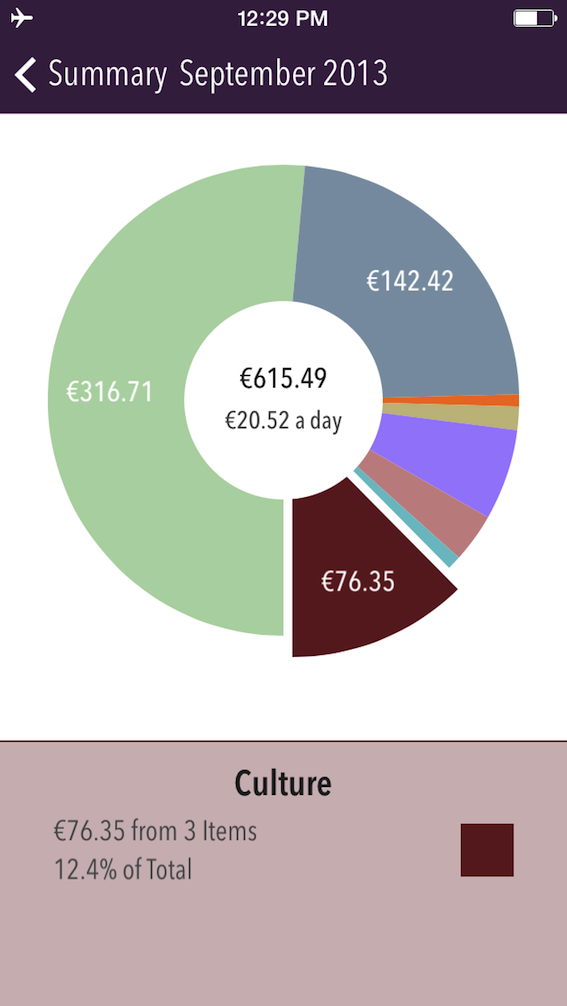 This large amount of pesos usually falls within the Transport category, but we've stayed mostly put in San Cristóbal, so we had to spend the money elsewhere. That's what we keep telling ourselves, anyway.
We spent a vast amount of money in only three places, but feel the experiences we took from them were more than worthwhile.
The most expensive was our coffee tour in Chiapas, at 800 MXN/45 EUR total. Although I have spent a lot more than that on a Saturday night in Amsterdam, it still hurts. However, it was one of our best days in Mexico, full of camaraderie, hilarious shenanigans and a real taste of local culture. Plus, we even got a ridiculous video out of it, so I'm not complaining.
Up next was our chocolate workshop at Museo Kakaw, at 500 MXN/30 EUR total. This one I think is a bit steep for what you get, but hey – it's chocolate, and we got to make our own scrumptious dark chocolate bar. I should have called this blog "Bankruptcy by Chocolate"…
Finally, the entry fee to the orchid sanctuary in Moxviquil cost us 50 MXN/3 EUR – a bargain, considering the beauty we saw. Plus, our money will help preserve a fragile ecosystem, so we might get some good karma back.
Other Categories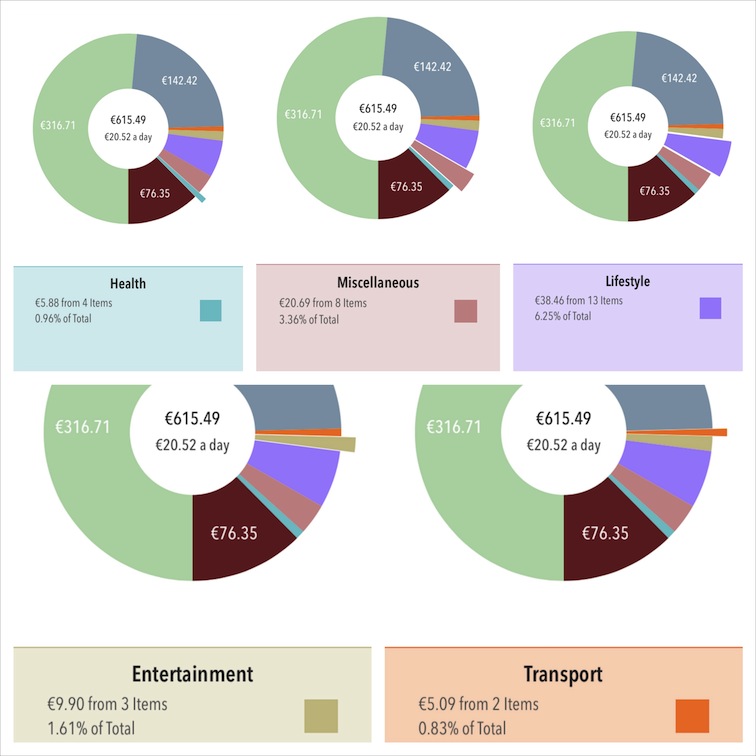 The remaining categories were responsible for 13.1 % of our total costs. Although we didn't move around much, we still managed to do a little bit of everything.
Health means sunblock, toothpaste and such. Costs were lower than in August, mostly because we have no need of sunblock in San Cristobál – privileges of living 2200 meters above sea level.
Lifestyle is a fancy word for nicotine addiction. We'll quit later.
Transport costs took a huge tumble this month. We walk everywhere in San Cristóbal, and only needed transportation when we visited the neighboring village of San Juan Chamula, to check out its fascinating church, displaying an eerie mix of Mayan and Christian iconography.
Miscellaneous can be anything, and this month it was mostly laundry and other mundane affairs. We also had a few drinks with new friends, because hey, it's San Cristóbal…
Summing up: we are staying in cozy places equipped with all necessary commodities, eating delicious food and exploring a captivating culture, while paying 20 EUR a day for the privilege. Folks, seriously, come to Mexico!