Glimpses of Guatemala City
Guatemala City is a sprawling amalgam of old and new, dirty grey and mirrored blue. Its 22 zones hold over four million people and a diverse array of neighborhoods, where glass-stained skyscrapers jut out of derelict houses and chaotic avenues saturated with traffic.
As in most capitals of the developing world, first impressions are not overly positive. Adding the city's reputation as one of the most violent capitals in the world, it becomes readily apparent why it's not a common tourist destination in Guatemala.
Our trip to Guatemala City, or "Guate" as it is colloquially known, stemmed not from a particular desire to undertake an urban adventure but from practical necessity. I had a doctor to see and a plane ticket to amend, so we kept our time there to a minimum. We are still adjusting to a homely life in Panajachel, and have no need for taxis, buses, pollution or the brutal sounds of the metropolis.
Since we were on a tight schedule, most of the city was left undiscovered. Of all the sights to see, we only managed to get glimpses of the historical center and rough sketches of zones 9, 11, 13 and 14. Hence, the renowned Zona Viva was absent from our travels, as was the cultural district of zone 4.
Most of our time was spent inside ramshackle buses, some equipped with armed guards. Taxis notwithstanding, buses are the best way to roam Guate. It is not an easily walkable city, so the 1 GTQ/0.10 EUR per bus trip are money well spent. There are fancier (and safer) buses available though – the Transmetro and Transurbano are proper buses and only slightly more expensive at 1.10 GTQ.
Our first stop outside of mandatory engagements was the historical center, where we were surprised by the presence of an ice-skating ring occupying the Parque Central. Used to the balmy Guatemalan weather, we keep forgetting Christmas is approaching, sons and daughters of the Mediterranean as we are. For us, Christmas means biting cold and the odd snowflake – anything short-sleeved may only pop out after the 7th round of whiskey.
As young and old folk attempted equilibrium on ice, we meandered by the Catedral de Guatemala, brimming with pigeons, and the Palacio Nacional.
Guate's historical center is not a haven of cobblestone streets and picturesque buildings. History has not been turned into a postcard, but is visible in every defaced wall and wrinkled street vendor. It is part of the city and its daily struggles – a broken amber, spilling harsh realities.
Nonetheless, the atmosphere was decidedly festive, as evidenced by the enormous amount of red devils protruding from every nook and cranny. We had arrived in Guate a couple of days before the Quema del Diablo, or Burning of the Devil, a wonderfully pagan tradition which posits the mellifluous Morningstar as lurking under piles of garbage. To rid themselves of evil (and a bit of trash along the way), Guatemalans collect as much rubbish as they can and set it alight on the 7th of December – an effigy of the devil is also thrown in, to ensure a Christmas free of malevolent spirits.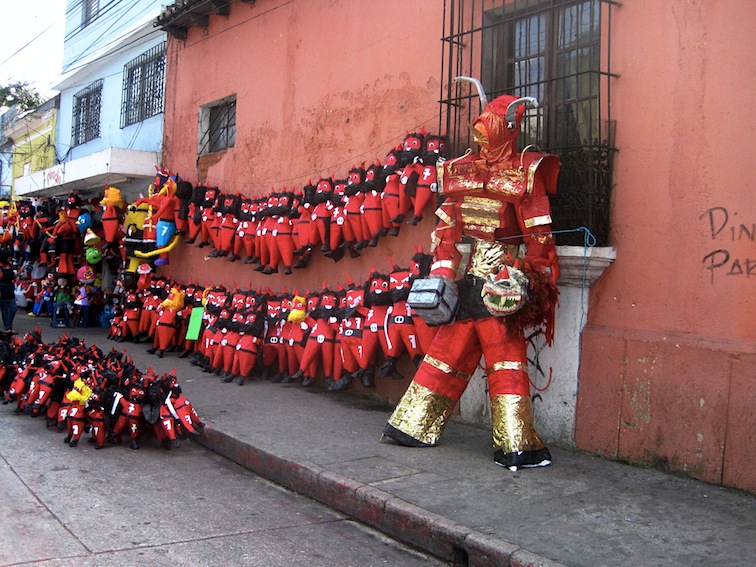 Although we were unable to whack a black-bearded devil, we did encounter a gigantic Christmas tree in the middle of Plaza del Obelisco. Again, the sight of people wearing t-shirts did not compute with our idea of the merry season.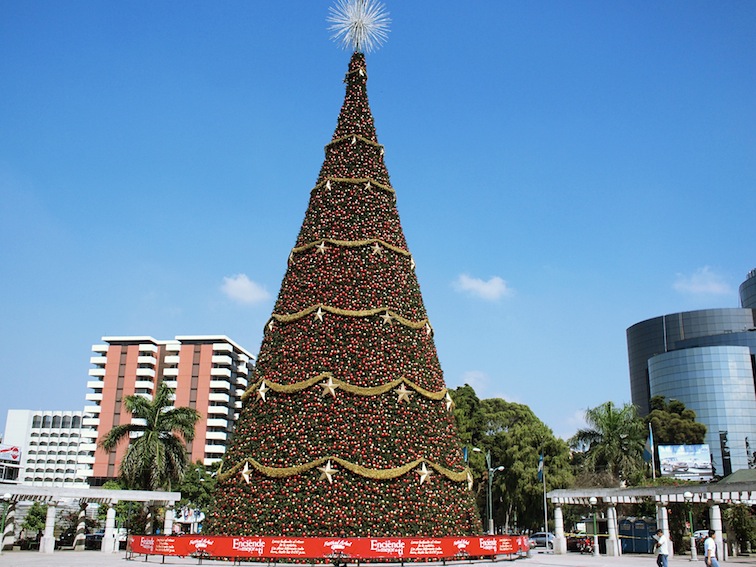 In the late afternoon, having finished our last appointment, we headed to our hotel, situated by the La Aurora airport, in zone 13. Asking around for the easiest bus route to get there, we were strongly advised to opt for a taxi instead. Since this advice was given with a concerned frown, we took it and hailed a white taxi.
Taxis in Guate are divided between metered ones and white ones. The first have a minimum price of 25 GTQ/2.5 EUR, whereas the latter ones have negotiable rates. We took a white one, bargaining (probably badly) our way out of 40 GTQ/4 EUR for a 15 minute ride.
Exhausted, we crashed and tumbled into our temporary home, having survived enough heat and exhaust fumes to knock out a small mammal (like us!).
Of our first day in Guatemala City, one factor stood out: every single person we met – and there were quite a few, since we were using public transportation and kept getting lost – was exceptionally friendly and helpful. Granted, speaking Spanish helped, but we marveled at the ubiquitous kindness of strangers.
For all the talk of unrelenting violence and danger, we chanced upon a remarkable community of generous people, commuting to work and rushing through hectic daily lives but willing to stop and guide two ragamuffins without a clue.
Nonetheless, the following day we were faced with the random cruelty of a bustling metropolis – not directly, but through the written words of a newspaper article. On the Current Affairs page of the Prensa Libre newspaper, under a "Successes" headline, we read details of two failed robberies: one of the attempts was made in one of the bus routes we took on zone 14, the criminals being thwarted by a gun-holding passenger, who shot and killed one of the assailants. The other referred a botched carjack, where the perpetrator was also killed by his hypothetical victim. Two days earlier, also on zone 14, a 17-year-old male was found decapitated next to a 14-year-old who had succumbed to multiple stab wounds.
Once outside in the sun and somewhat shaken, we hopped on another rusty red bus and made our final exit from Guatemala City. Yet again, our fears were diluted by the smiling faces and helpful directions of the citizens of Guate, a massive city torn between a history of violence and the calm hospitality of many of its inhabitants.
Transportation from Panajachel to Guatemala City
There are two main transportation options going from Panajachel to Guatemala City:
1. By bus: chicken buses leave Panajachel every day at 5:00, 7:00 and 11:00 from the corner between Calle Principal and Calle Santander. The ride costs 30 GTQ/3 EUR and lasts between 3 and 4 hours, depending on traffic and road conditions. It is advisable to arrive before a scheduled departure to ensure a seat. We did not find any reference to tickets being sold beforehand.
The chicken buses arrive at El Trebol station in Guatemala City. It's also from El Trebol that they depart to Panajachel, usually every hour from 5:30 to 15:30. The chicken buses going directly to Panajachel (with stops in Chimaltenango, Los Encuentros and Sololá) belong to Transportes Rebuli and are mostly green-colored.
2. By shuttle: all tour offices in Panajachel (most along Calle Santander) sell shuttle services to Guatemala City. The average price is 175 GTQ/17 EUR pp one way. They will pick you up at your current residence and will drop you off at your precise destination in Guate. The trip generally lasts under 3 hours and is much smoother than by chicken bus.
Bonus round
We were planning on taking the chicken bus, but ended up going by shuttle. However, we did not pay 175 GTQ per person. Many of the drivers operating the shuttle vans in Panajachel will leave in the early morning to pick up tourists in the surrounding cities – habitually Antigua and Guatemala City. Because they are traveling empty, opportunity dictates they will try to earn a few extra bucks by taking casual passengers from Panajachel.
Hence, they will drive through the corner between Calle Principal and Calle Santander, and will ask if anyone is going to their designed destination.
Since we had arrived early to our 7:00 o'clock chicken bus and were standing idly in the shade, we were approached by an amiable driver on his way to Guate. He asked for 125 GTQ/12 EUR per person, which I managed to bring down to 50 GTQ/5 EUR (my haggling skills have vastly improved).
It ended up being a fantastic deal. Our driver enjoyed our company and took pleasure in answering my unending barrage of questions, which in turn led to captivating stories. As he said when we arrived in Guatemala City after a mere 2:30 hours on the road, "Time just flew by". It really did.