Going Slow in Caye Caulker
Life goes by at a slower pace in Caye Caulker. Having gone above and below the Yucatan peninsula and explored its limestone wonders, we took it down a notch and decided to relax in Belize. Getting to Caye Caulker was a breeze: after taking an ADO bus to Chetumal, we hopped on a water taxi and in a little more than two hours were getting our passports stamped by the Belizean authorities.
The trip was relatively smooth and we were presented with a slice of local humor, courtesy of the surprise film on board. After a short stop in San Pedro, in the bigger island of Ambergris Caye, we eventually made landing in Caye Caulker. The first impression was one of minuteness. It doesn't look very big, and we later found out it really isn't.
We walked towards Middle Street and asked around for directions to our booked accommodation, the Barefoot Beach Belize/Seaview Hotel. Located right in front of the sea and a short walk from the main area of Caye Caulker, our little seaside cottage provided a good base from which to enjoy the delights of the island. Also, it has a couple of very photogenic hammocks swaying in the breeze at the end of a small pier. The wind was picking up during our first night, but we did take advantage of them later on.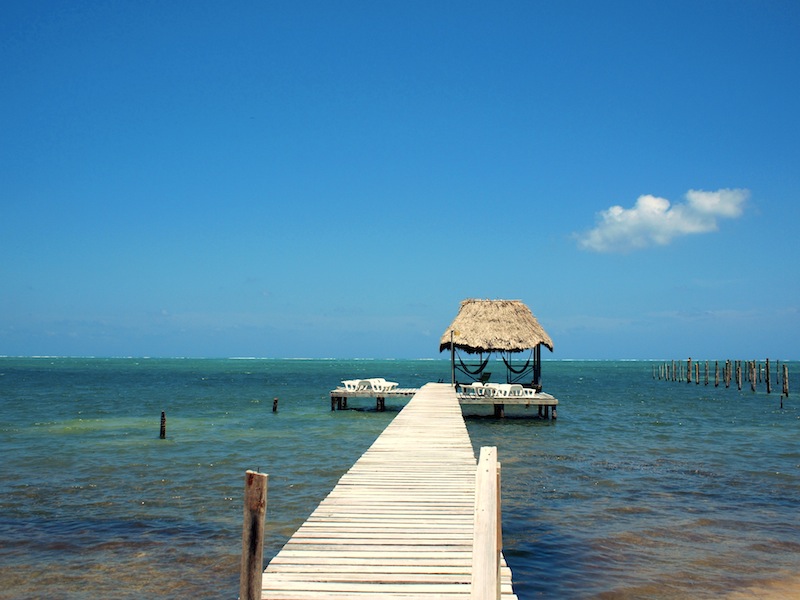 Although the island is easily explored by foot, we got a couple of bikes from our hotel and rode around under the sun. There aren't many proper beaches to speak of, but a nice swim can be had by The Split, where tourists and locals alike find some solace from the often scorching heat. It was quite easy to differentiate between tourists and locals, since the latter preferred to lounge about in the sea fully clothed.
The whole island can be seen in 30 minutes by golf cart, which seems to be the preferred means of transportation. Bikes are also popular, and we found them more to our taste. Cycling around, we took in the sights, stopped to visit the odd supermarket (seemingly all Chinese-owned) or a trinket shop, and even inquired about the logistics of seeing the famous Great Blue Hole. Eventually, we opted out, and remained firmly on sandy ground for the duration of our stay.
Our days were spent cycling around, having scrumptious breakfasts at Amor y Cafe, playing cards in the shade, jumping into the sea with local kids and choosing where the next meal would be. The food was much like the island itself: laid-back, affordable and thoroughly enjoyable.
Still on a bike, we managed to cover all streets in Caye Caulker: Front Street, Middle Street and Back Street. Yes, all three of them. Most human activity can be observed along Front Street, since it stretches almost parallel to the ocean and is lined by restaurants, food stalls and several shops of varying sizes and assorted colors.
Having fully embraced the island's motto of "Go Slow" during our stay, we finally left Caye Caulker with a heavy heart. Walking back to the water taxi which would take us back to Chetumal, we waved it not a goodbye but a 'till the next time.